Your one-stop digital signage solution to show your most important content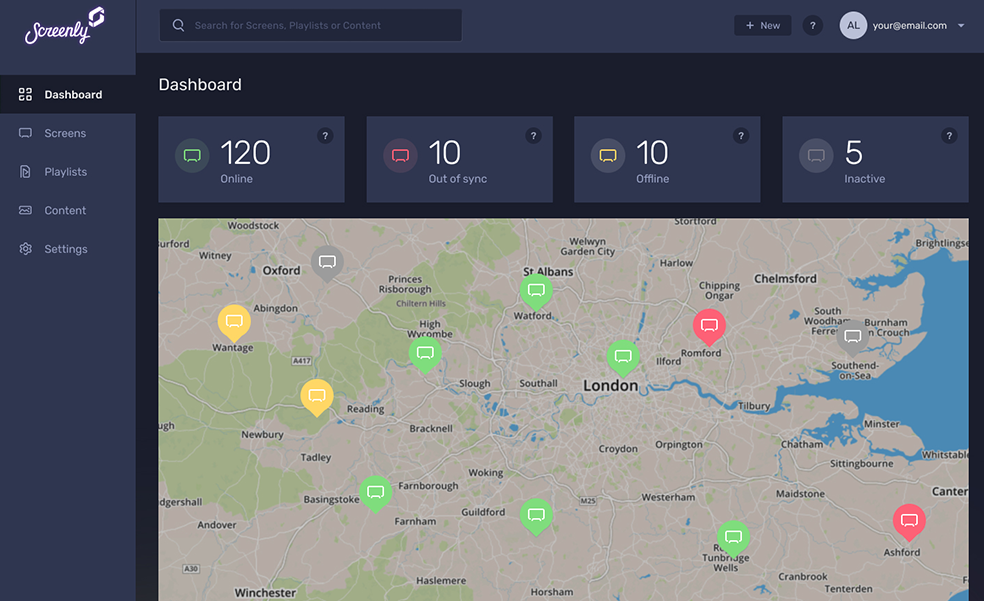 Log in to our online platform, and plug in the Screenly Player to your screen via HDMI.
Add images, videos, live web pages, and more to your Screenly digital signs.
Schedule content, check playback statuses, and control all your digital signs.
Pocket-sized player, big screen possibilities
Turn any modern TV or monitor into a digital sign with a Screenly Player - a smartphone-sized media player with a miniscule 3-watt power draw. Just log in to your account at Screenly.io and connect your player, and you'll be ready to go.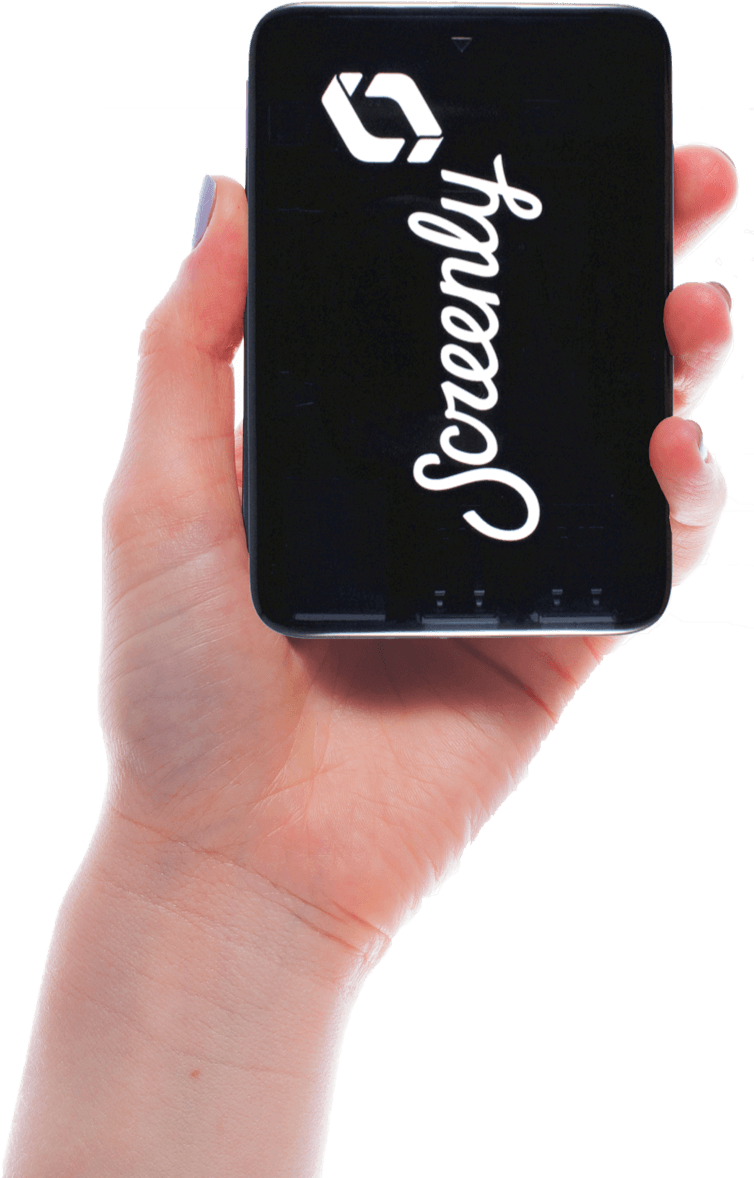 Discrete Size
The Raspberry Pi-based Screenly Player fits in the palm of your hand.
Rock-solid Stability
Regular, automatic software updates and zero moving parts keep things simple.
Zero Downtime
Locally-stored content plays during internet outages.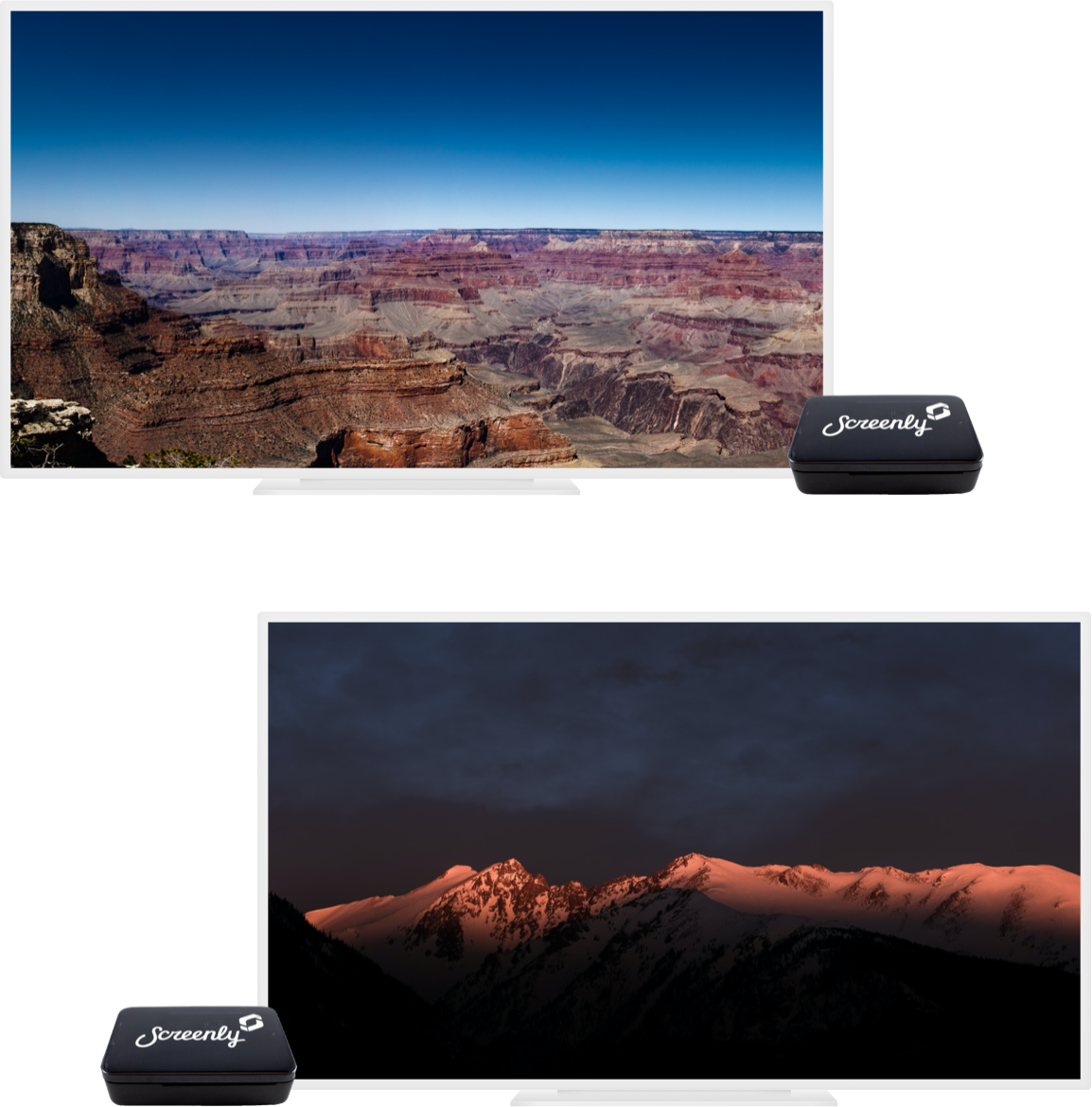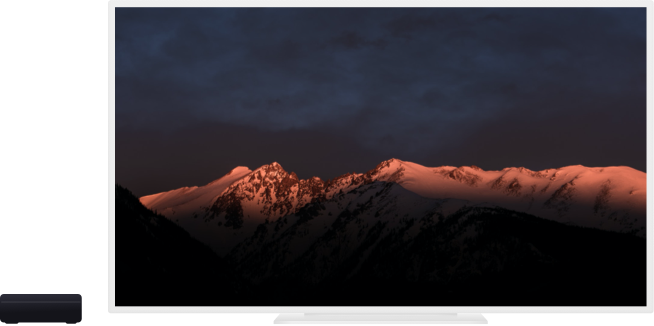 Your content of choice, in stunning 1080p Full HD
Show the content you love with Screenly. Display images, videos, live web pages, and more in beautiful 1080p Full HD resolution. Whether you want to get the word out on a new promotional offer, show off your products, or keep employees in the loop with relevant updates, you can rely on Screenly.
Beautiful HD
Display 1080p Full HD resolution images, videos, and web pages with ease.
Optimized Content
Screenly automatically optimizes your content for each of your screens.
Endless Use Cases
Show weather forecasts, calendars, business dashboards, menus, and more.
"Really easy to use very functional. The fact that you can time and queue the digital elements is fantastic. The turnaround time from when the media is sent to when it actually plays is very impressive. We are very happy with our partnership with Screenly. The customer service is excellent with a "can do" attitude to solving any operational issues."

Timmy M.
Capterra Company Director
"After evaluating multiple platforms ranging from high end appliances to other RPi solutions, we settled on Screenly because it gave a great balance of features, simplicity of use by non-technical staff, and low cost of entry."

"Extremely easy to use and customize, very powerful solution for a centralized, affordable digital signage solution. Incredibly versatile for any number of solutions such as: Static digital advertising, document display requirements, mobile digital signage, projector signage, multi-screen signage, digital postboards, internal news and advertisements, and many many more."

Mitchell P.
G2 Network & Systems Administrator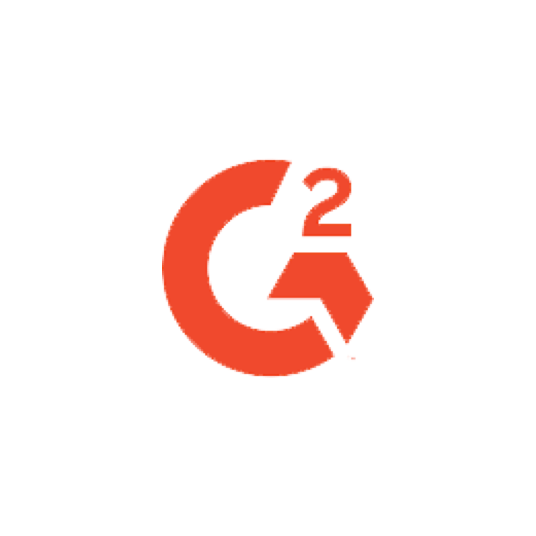 Seamlessly upload, manage, and display your content
Managing your content across your digital signs is easy with Screenly. Create playlists of different content types, and schedule content to run on individual or multiple digital signs. You can organize digital signs into groups and effortlessly control when and where Screenly displays your content.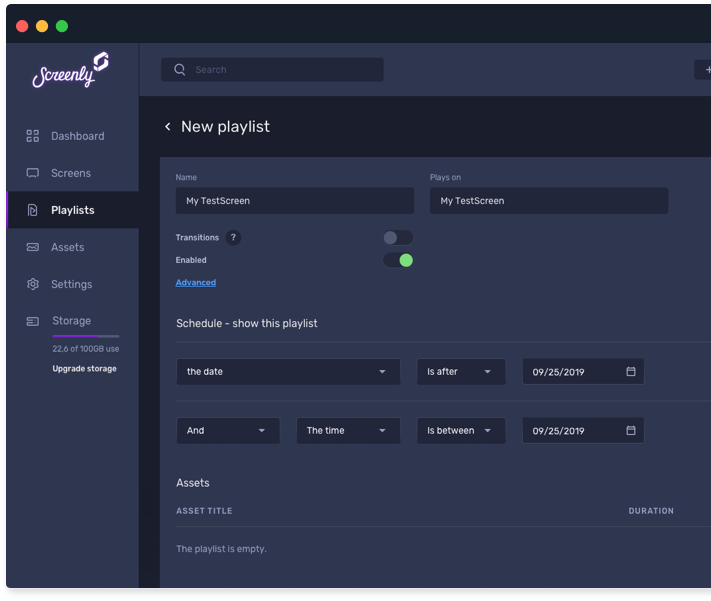 Content Playlists
Create and schedule playlists, weeks in advance.
Playback Screenshots
Thumbnails let you quickly identify content even within complex playlists.
Runs Screens Offline
Locally-cached content means zero interruptions.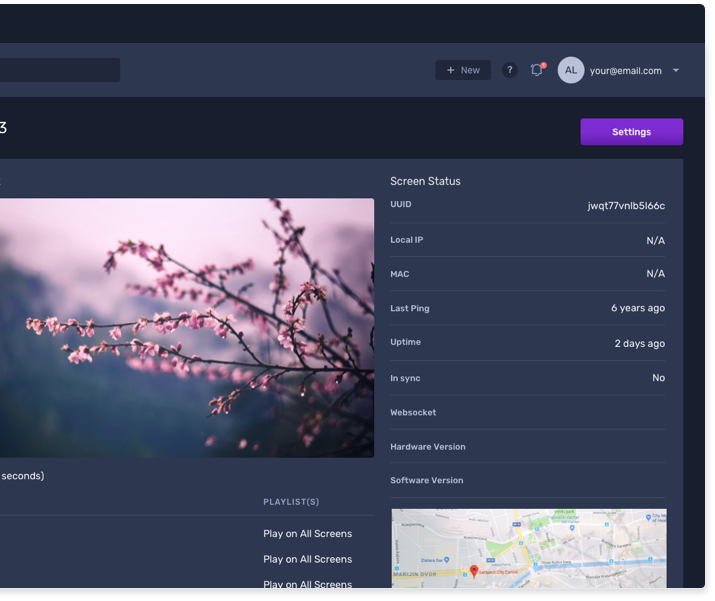 One screen or one hundred, manage them all from the cloud
Control all your digital signs from our intuitive online platform. Check the location and uptime of each of your digital signs, and see what content is playing in just a few clicks. Also, we update our screen management software automatically, so you can rest assured that your digital signs remain stable and secure.
System Status Dashboard
Check the connection and playback statuses of your digital signs from anywhere on your laptop.
Hands-free Updates
Automatic software updates guarantee smooth sailing and security.
Unlimited Screens
Screenly scales to your business's demand, even if it's hundreds of screens.
Key Features
Bulletproof Security
Screenly uses a secure Ubuntu Core operating system, automatic software updates, and two-factor authentication to minimize the chance of hackers compromising your digital signs.
Pre-built or DIY media player
The Screenly Player is built on the Raspberry Pi. Buy from Amazon prebuilt and ready to plug-and-play, or build your own Screenly player today with your own Raspberry Pi.
Content in the Cloud
Keep your content stored in our secure cloud. Update your digital signs on-the-go, and drop the hassles of local content hosting.
Wallet & Eco-friendly
The Screenly Player uses a fraction of the power of a typical digital signage media player, saving you money on electricity bills and reducing your carbon footprint.
Portrait or Landscape
Display content on either orientation with ease. Need to have a vertical menu board and a horizontal announcement screen? No problem.
Multi-timezone Signs
International deployments are a breeze. Screenly supports content scheduling in multiple timezones.
WiFi, Ethernet, & PoE
Screenly Players connect to the internet via Ethernet cable, WiFi, or mobile hotspot. You can also power Screenly Players via Power over Ethernet (PoE).
Multi-user Support
Have multiple user logins for a single Screenly account. Create new logins, assign permission levels, and revoke access at scale.
Priority Content Delivery
Need to display an important piece of content immediately? Use priority playlists to display time-sensitive content ASAP.